Summer Staff & Volunteers
JOIN OUR TEAM THIS SUMMER!
Every year we rely on incredible program staff and volunteers to serve campers and invest in the lives of the hundreds of children and youth who come to Circle Square Ranch.
APPLY ONLINE
Summer Volunteer & Staff Opportunities
More than 100 staff and volunteers join our team each summer to help make Circle Square Ranch an exciting, fun, and safe camping experience for the campers who attend our programs.
As a staff member you can expect to work hard, make great friends, and see God work both in your own life and in the lives of children and young people in a powerful way. Roles we hire for each summer include positions on our Volunteer team and positions on our Senior Team. Please read below for more information.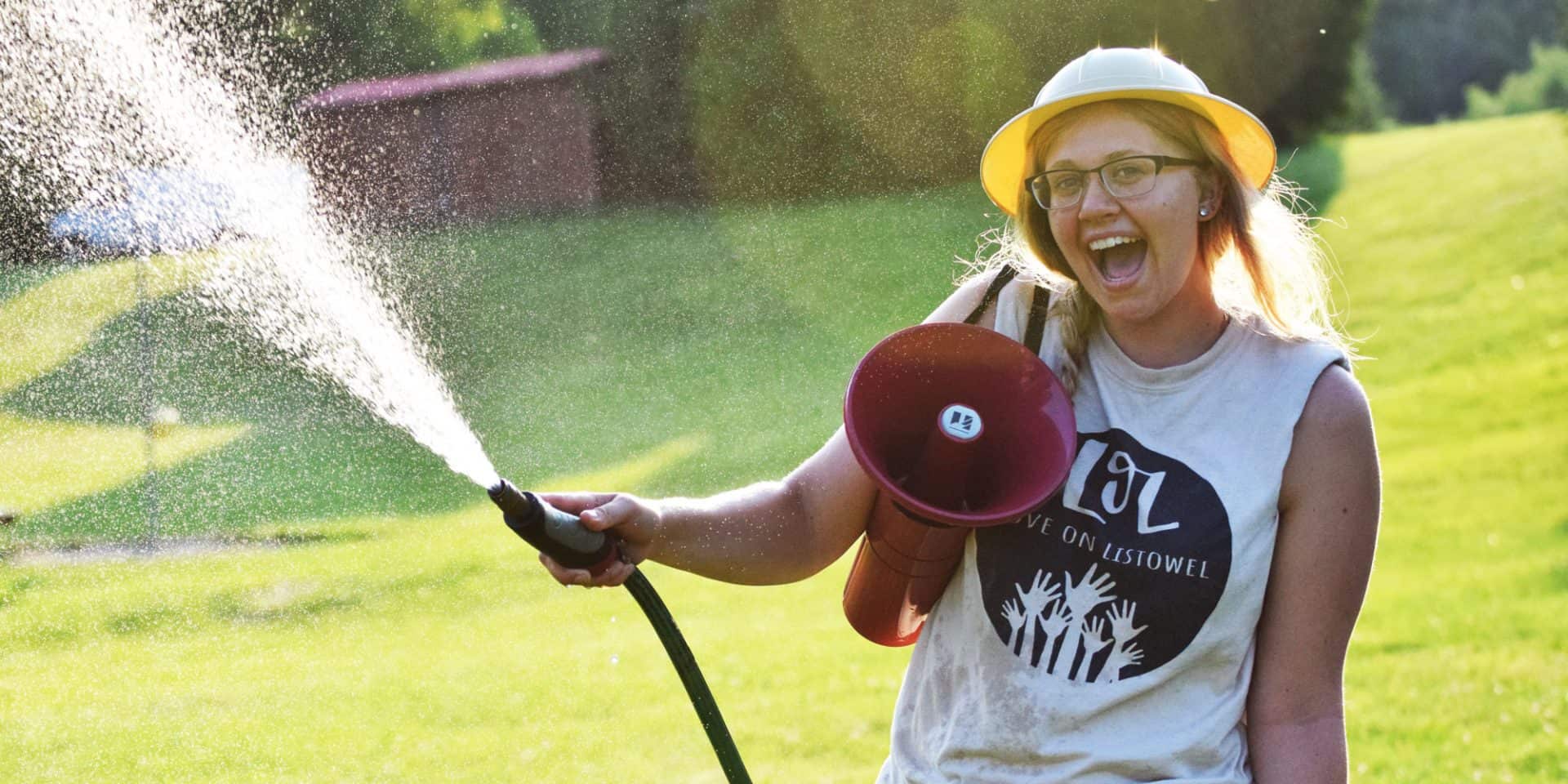 Volunteer Opportunities
There are a few different ways to join our volunteer team this summer, depending on your age and the type of involvement you would like to have. Please choose from the drop down menus to find out more information on how to apply!
We love and appreciate having adult volunteers work alongside us to make camp happen!
Camper Parents who are interested in volunteering while their child is attending camp can apply as a Parent Volunteer. Click here for additional details.
Adults from the community who are interested in volunteering in the kitchen during the day on occasion throughout the summer should complete a Community Volunteer Application. In addition to the application, we require 2 references and a police check.
Adults from the community who are interested in volunteering in a more direct role working with children should fill out our regular Summer Volunteer Application. In addition to the application, we require 3 references, an interview, police check, and attending in-person or online training.
Teens and Young Adults who will be at least 16 by the end of December can join our team as a Summer Volunteer.
A Summer Volunteer has the opportunity to work in many different positions that include: counselors, day camp leaders, kitchen staff, maintenance team, program team, ropes instructors, and horsemanship instructors.
Summer Volunteers can serve at camp anywhere from 1 to 9 weeks of the summer.
Our Summer Volunteers are paid a weekly honorarium and also have the opportunity to participate in our Summer Staff Scholarship Program and the Summer Missions Program. Summer Volunteers may be eligible for a Summer Staff Scholarship in addition to their weekly honorarium. Scholarship amounts are determined based on a combination of the number of years of service, the number of weeks of service, and their ability to work as a team over the course of the summer. The Summer Missions Program allows you to raise funds to support your work at camp and enables other to partner with you in what God is doing at camp. Both of these programs are optional.
The application process for our Summer Volunteers includes completing the online application, references, interview, and police check.  We host a fun and interactive training week at the end of June for all accepted volunteers. If you are unable to attend the training week, you can complete the online training instead.
Click here to complete the online application.
LIT:
Teens who won't be 16 before the end December but are interested in volunteering at camp and staying overnight during the week will first need to complete our LIT Program. LIT is for ages 15-16, but 14 year olds can apply if they will be 15 by the end of December.
Click here
for more information about LIT.
Junior Volunteer Program: The Jr. Volunteer Program is for teens ages 13-15 who are interested in serving at camp, learning new things, developing work skills, and being a day-time helper at Circle Square Ranch. Applicants should live locally as they will need to commute and cannot stay overnight as a Junior Volunteer. While helping out at camp, we hope to help you to grow as a Christian leader throughout the summer as you prepare to be a part of our LIT and volunteer team in the future. Additional details and the application can be found here.
Senior Staff Opportunities
Each summer we hire enthusiastic young adults to join our Senior Staff team in a variety of different paid leadership positions.
Senior Staff must be at least 18 years of age and are selected through a thorough hiring process including an online application, interview and police check. Once accepted, all senior staff are required to participate in training prior to their time at camp.
Senior staff are required to have strong leadership skills, previous camp experience, and have a desire to see the lives of children and youth transformed by Christ.
Listed below is an overview of the different positions we hire for each year. Please contact the office to inquire about positions we currently have available as some may already be filled.
Resources
After you have submitted your Staff Application, we require references to be submitted on your behalf. It is your responsibility to make sure that the individuals you have selected to be your references complete the forms below.
Please direct your references to the appropriate forms:
Does this sound like you?
Teachable, helpful, friendly, hard-working, maintain a positive attitude, reliable, flexible, and a team player

A faithful witness of Jesus Christ in word and action; in a committed relationship with Him; having a mature, growing faith and the freedom to share the same

A leader who has the flexibility and willingness to help out wherever help is needed

A leader who has an understanding of and caring for children

The ability to live and work in a camp environment

The ability to work with other staff in a spirit of co-operation

A demonstrated willingness to participate fully in camp activities

A successful result from screening procedures such as: police record check, reference checks and verification of special training certificates
APPLY ONLINE
Summer Staff & Volunteer FAQs
Still have questions about working at camp? Find out all the details by reading through our Summer Staff & Volunteer FAQ. This document talks about summer dates, hiring, dietary concerns, and more.
View FAQs