NOT YOUR ORDINARY SUMMER!
Get information here from packing your gear to getting onsite for your camp session.
Summer Camp Activities
Our vast range of programs and activities makes Circle Square Ranch appealing to children and teens. We encourage campers to try new and exciting activities that are challenging and fun. Exploring the beautiful outdoors with friends are a part of each fun-filled day at camp. Through high energy and interactive campfire times, daily cabin devotions and the example of our staff, campers will have the opportunity to discover what the Bible has to say about Jesus and our relationship with God. Campers participate in a variety of instructional and recreational activities based on their preferences.
Archery

Archery Tag

Arts and Crafts

Basketball

Bible Studies

Campfires

Campouts

Carpet Ball

Climbing Tower

High Ropes Course

Initiative Course
Gaga ball

Mountain Boarding

Out trips

Recreational Activities: Various

Swimming Pool

Sling shots

Team Building Games

Tetherball

Theme meals

Tomahawks

Trampolines

Volleyball

Water games

Zip line: 30-ft high
Please note that activities vary for each camp session
View Activities By Session PDF
Print Packing List and General Camp Information
Detailed information will be sent with confirmation of your camp registration.
This package will include camp specific drop-off and pick-up times, a packing list, and other important information that you will need for your child's week of camp.
If you do not see an answer to your question, check our FAQ page or contact us. We are more than happy to help!
Packing List
Theme Meals
2020 Theme Meal Calendars will be posted in mid-June, stay tuned!
Horsemanship Program
Introductory Program
Explore Day Campers who have purchased the riding add-on, as well as campers in our Junior Camp, will learn the basics about horseback riding. They are taught to safely lead their horse and to start, stop, and steer their horses while riding at a walk. The Introductory Program builds confidence in riders.
Recreational Riding Program
Boys Camp and Leadership Camps will have the opportunity to ride at least once during their week at Circle Square Ranch. Campers in our Extreme Day Camp will ride daily. This recreational riding program consists of a lesson or may also include a trail ride.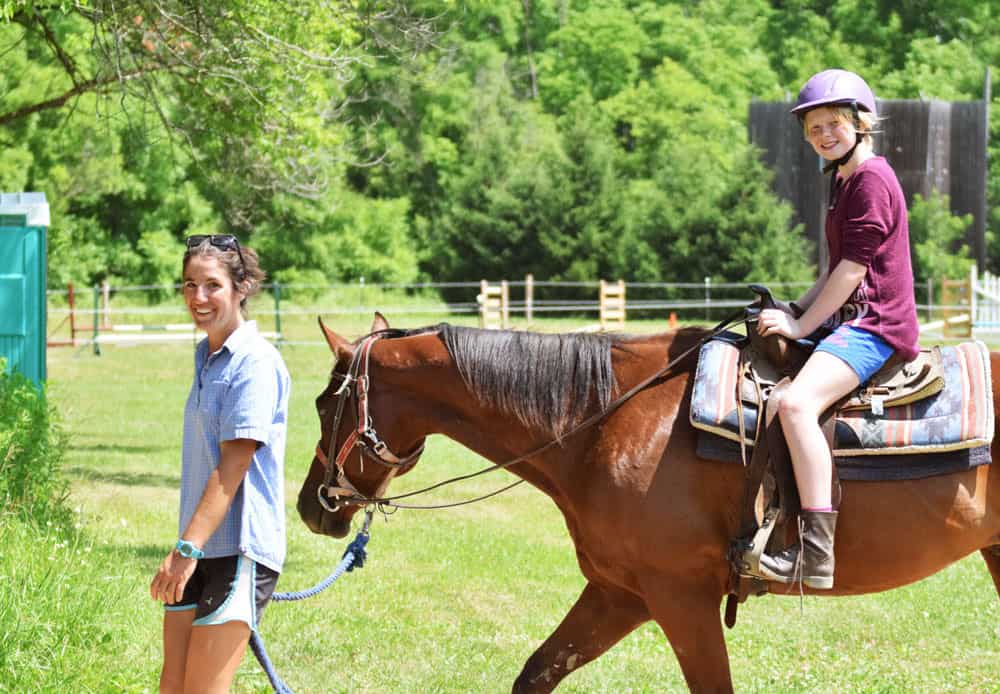 Levels & Trail Riding Programs
Riders in our Discovery Camp may choose to participate in our Level or Trail Riding Programs.
Campers who choose Level Riding are placed in a level based on their current riding ability. Riders progress through the levels from beginner to learning advanced skills. Campers learn new skills in an arena and participate in one trailride during the week.
Campers in our Horse Lover's Camp will also take part in the leveled riding program below based on their current skill level.
Campers in our Horse Lovers Day Camp will also participate in our Level Riding Program